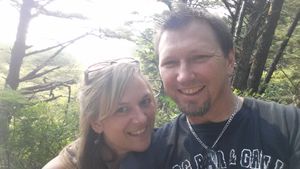 Thanks for your interest!

Shannon has over 30 years in the restaurant and hospitality industry. She starting out as a server and then has occupied every employment position over time. Now as owner, she brings an immense knowledge base to Stewart's 58 Drive-In as well as a natural talent and passion for the industry.

Gregg has decades of experience in sales and marketing, and now uses his dedicated work ethic and attention to detail for executing culinary deliciousness from the grill.

This dynamic duo has been married over 30 years and Stewart's 58 Drive-In is the second restaurant they have owned. They're also very proud residents of the beautiful Oakridge town and the friendly community.
"We are a real Mom & Pop shop and though the work is hard, putting out a quality product is worth it and the smiles on the faces of our customers means everything!"

The Stewart's 58 Drive-In building began its restaurant life 1950 as the "The Big Top" drive-in. In the 60s' it turned into "High Lakes Restaurant". Thirty some years and a few owners later it turned into "The Trails Head" and now finally, "Stewart's 58 Drive-In." "We consider it an honor to have found this little gem of a building, turned back the decour to the 1960's and offer up a boutique style menu of casual Americana favorites! Stop by and try us out, we think you're going to love it!"  - Gregg & Shannon